So one of my new found addictions is to page through all of the Digital Scrapbooking freebies that are available and changing on a pretty much daily basis. It seems that these are usually fairly limited time offers, which makes it even more fun to chase them down before they are gone forever lol. ( I know, I lead such an exciting life :P )
Found some really cute ones today! Here's my short list ( I might add a few later) :
A Bit Bloggish
The adorable retroish Fresh and Clean set by Dawn Fairies Designs. I love this one as I'm a huuuge fan of anything even remotely retro. It also comes with a fun challenge and a chance to win the FULL set ( image available on the blog :)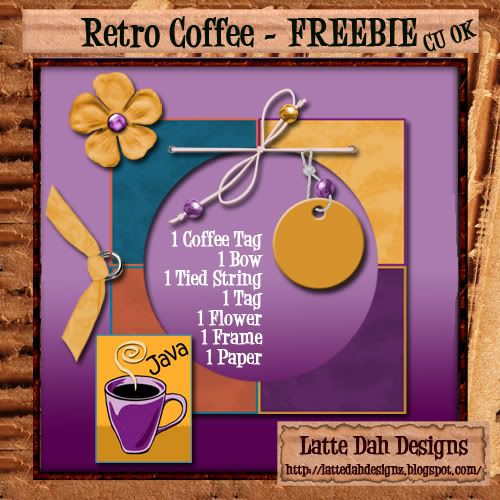 Scrappin A Latte'
Another really cute retro freebie available today is the Retro Coffee freebie by Latte Dah Designs. Be sure to check their blog for the full kit for Retro Coffee, there are a lot of really cute bead elements to be had in the kit and the price is great for so many elements!
HF-Projekte
Fall is almost here.. well for most people. I honestly don't know if we have fall here in Okinawa, I certainly hope we do since it is one of my absolute favorite seasons, but I don't think I've ever seen a palm tree lose its leaves like an Oak lol. In the fall spirit however, HK Projekte has a wonderful little fall frame cluster set available as a freebie over at their blog :)
Of course, there are a lot of others available too but these were just some of my favorites for the day. Hope you enjoy them too! :)